DISCOVERING OMAN – PHASE ONE
With soaring sand dunes, spectacular mountains that reach up to 10,000 feet into the sky, frankincense covered uplands, a coastline that stretches for more than 1,800 miles, modern cities, warm hospitality and a rich culture and heritage that goes back some 5,000 years – Oman is a land of fascinating geographical diversity that is positioned at the crossroads of Europe, Asia and Africa.
In the 1980s, in Oman's Sharqiya Sands desert, the Royal Geographical Society (with IBG) undertook the most intensive study of any arid environment to date. The Sharqiya Sands Desert Study Pack is based on the results of that initial research, updated to incorporate more recent developments. In 2017, exactly thirty years after that research ended, Oman opened its first purpose-built centre for outdoor learning in the same desert.
The Discovering Oman project aims to create a series of innovative, curriculum linked, on-line resources for use by teachers in the UK and Oman that look beyond the desert, and that compare Oman and the UK in a whole range of geographical themes. The lesson plans have been created by practicing geography teachers from the UK and Oman.
Phase One – an online resource for 9-13 year olds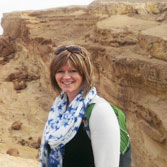 Anna Harrison is a secondary Geography teacher and the Coordinator of KS3 Humanities at Duchess High School, Northumberland. She is a teacher of over twenty years, with experience of teaching in New Zealand and South Korea.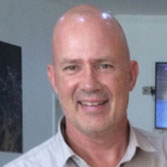 Bill Cordner is Head of Boarding, and a Geography teacher at The Sultan's School, Oman. He has also taught in Australia, Tanzania, New Zealand and the UK and is a Fellow of the Royal Geographical Society (with IBG).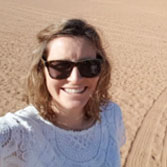 Katie Martin is the Geography Leader and SENCO at Blackfield Primary School, Hampshire. Katie has been teaching for seven years throughout the key stages in London and Hampshire.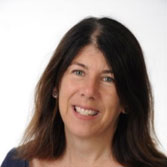 Tamsin Murchie is a year six teacher and Subject Leader for Humanities at The British School Muscat. She has taught in schools in the UK and across the Middle East and is a Fellow of the Royal Geographical Society (with IBG) and a member of the Geographical Association.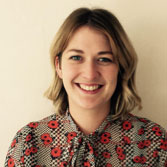 Deirdre Kehoe is a teacher of Geography and Environmental Science at Dunfermline High School, Fife, Scotland. She has been teaching in Scotland for four years and is a marker for the SQA.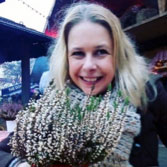 Heather Lang is a Middle School IB MYP Individuals and Societies Teacher with eighteen years' experience, thirteen of which have been spent in the Middle East, split between Qatar and Oman.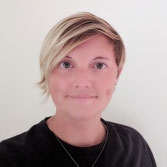 Becky Gray is the Curriculum Team Leader for Humanities at Sir Jonathan North in Leicester. She has previously spent six years teaching in three different countries, including Oman and is a Fellow of the Royal Geographical Society (with IBG).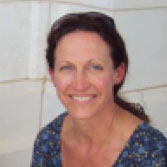 Ruth Hine is a Senior School Geography teacher at The British School Muscat, Oman, with twenty-five years' experience in teaching at secondary level in the UK, UAE and Oman. She is a Fellow of the Royal Geographical Society (with IBG) and runs the Senior School Young Geographers Club.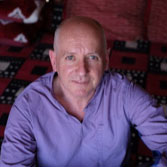 Mark Evans is the General Manager of Outward Bound in Oman. Previously, Mark taught geography for twenty-one years in the UK, Kenya, Bahrain, Saudi Arabia and Oman. He is a Fellow of The Royal Geographical Society (with IBG) and the Explorers Club of New York, and an Honorary Fellow of The Royal Scottish Geographical Society.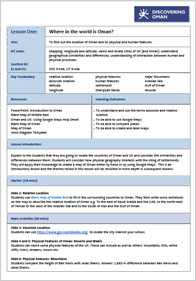 Lesson One – An Introduction to Oman
An introduction to the basic geography of Oman, and its main physical and human characteristics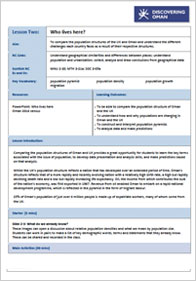 Lesson Two – Who Lives Here?
A lesson that compares the population structures of Oman and the UK, and looks at the different challenges each country faces as a result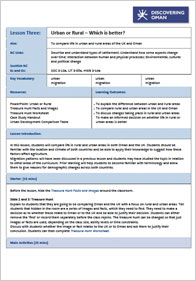 Lesson Three – Urban or Rural … which is better?
A comparison of life in both rural and urban areas of Oman and the UK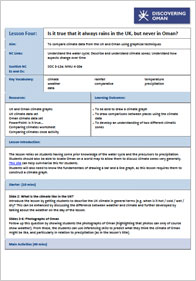 Lesson Four – Is it true it always rains in UK, but not in Oman?
A lesson comparing climate data from Oman and the UK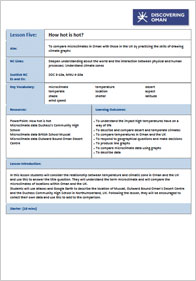 Lesson Five – How hot is hot?
Comparing microclimates in Oman with those in the UK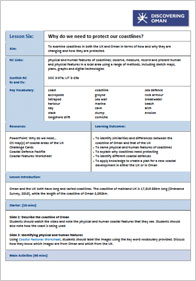 Lesson Six – Why do we need to protect our coastlines?
A examination of coastlines in Oman and the UK, in terms of how and why they are changing, and protected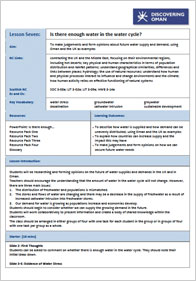 Lesson Seven – Is there enough water in the water cycle?
An opportunity for students to make judgements and form opinions about future water supply and demand in Oman and UK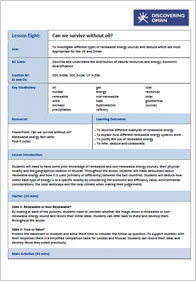 Lesson Eight – Can we survive without Oil?
A lesson that investigates different types of renewable energy, and enables students to deduce which are most relevant to Oman and the UK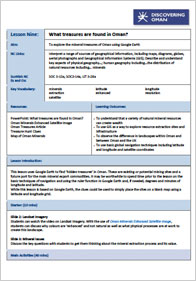 Lesson Nine – What treasures are found in Oman?
Oman is rich in various minerals; using Google Earth, this lesson plan enables students to learn more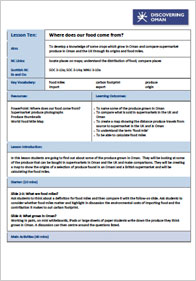 Lesson Ten – Where does our food come from?
To develop a knowledge of some of the crops which grown in Oman, and compare supermarket produce in Oman and UK through origin and food miles