Our powerful award-winning courses delivered either in the desert, mountains or at one of our three National Training Centres in Oman are designed to challenge and shape the lives and thinking of thousands of people each year.
From running courses for the emerging talent of leading organisations, to courses on employability and work ethics for job seekers, to courses for people experiencing mental wellbeing or drug related issues we deliver unique and innovative learning experiences for a diverse range of organisations and individuals from every region of Oman, and beyond.
Our creative team are always delighted to work with you, to help turn your needs and thoughts into reality.
Courses for young people in Oman
Working closely with the Ministry of Education's National Careers Guidance Unit, The Ministry of Social Development and The Ministry of Higher Education, we work with schools, colleges, universities, training institutes and with young people from all over the Sultanate of Oman. All of our courses are designed to help embed the key pillars of Vision 2040, the government's roadmap for future Oman.
We closely monitor latest thinking from The World Economic Forum to ensure our courses capture the key skills for future jobs, many of which do not yet exist, so preparing young people for the 4th Industrial Revolution, and an increasingly artificial intelligence led, entrepreneurial economy.




If you are a young job seeker who wishes to increase your employability on one of our Next Generation courses, or an individual or teacher who would like to join or find out more about an Outward Bound course, please keep an eye on our social media, contact
enquiry@outwardboundoman.com
or call +968 24539788 for more information.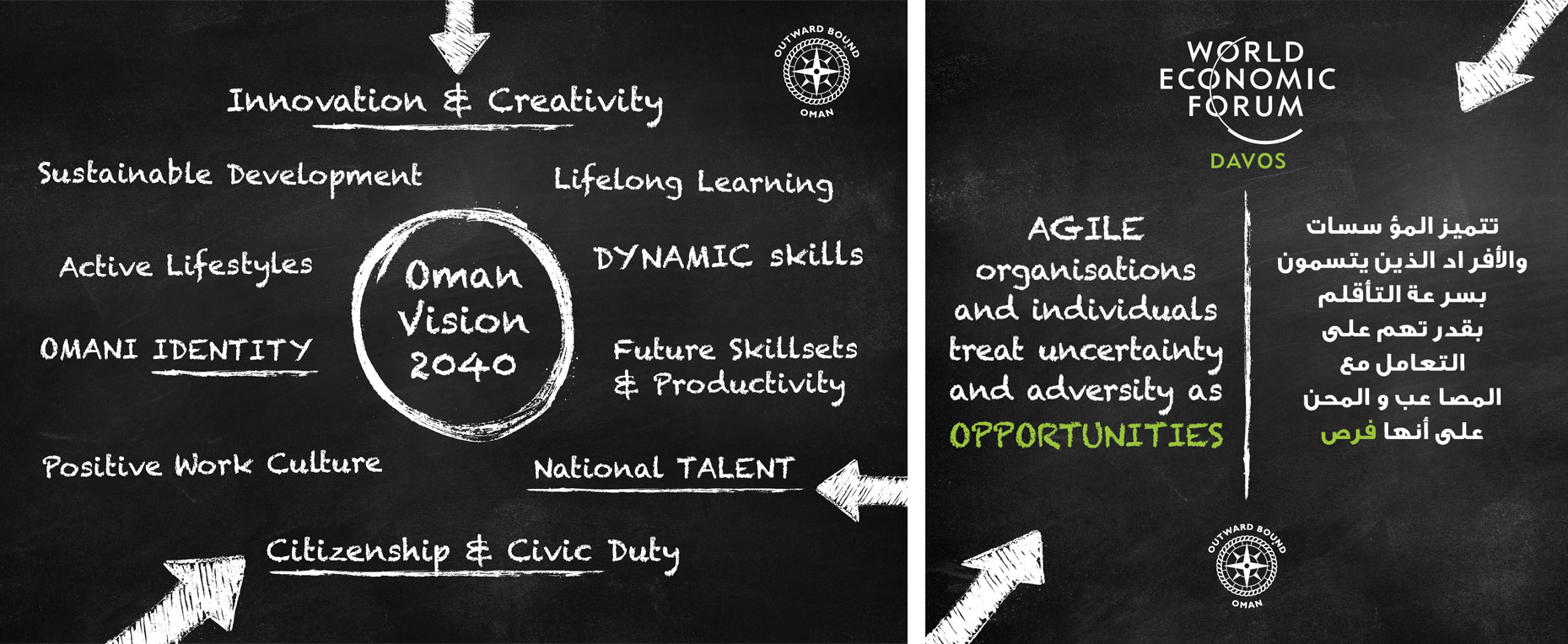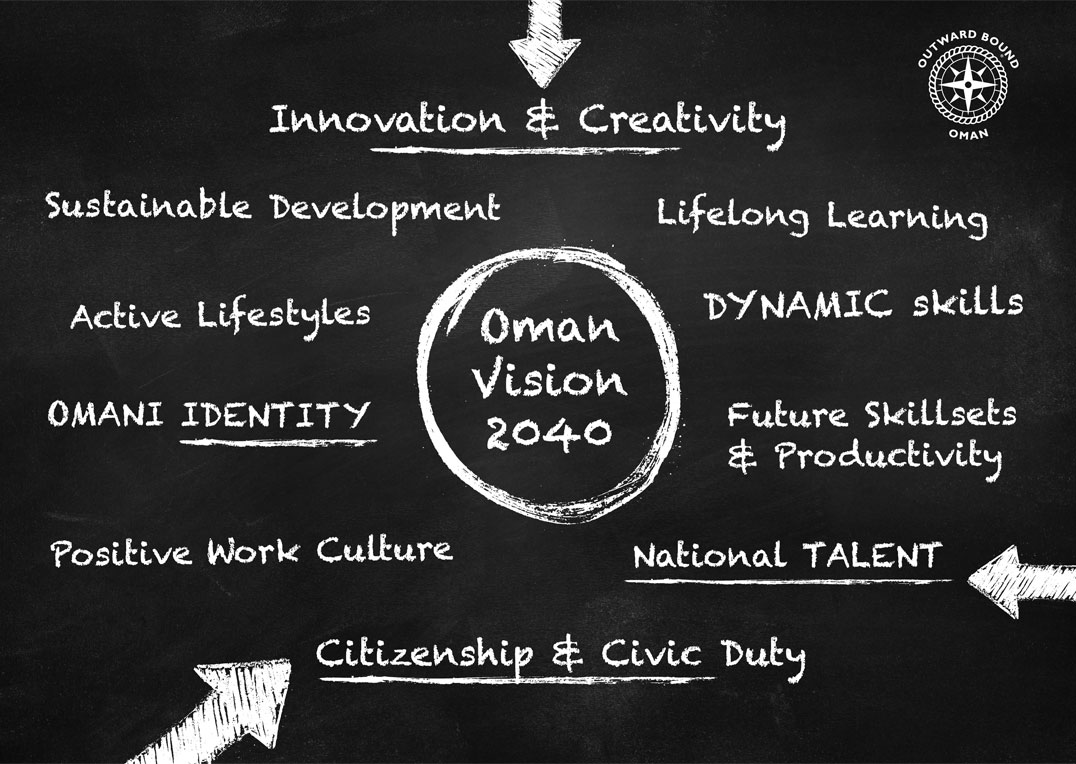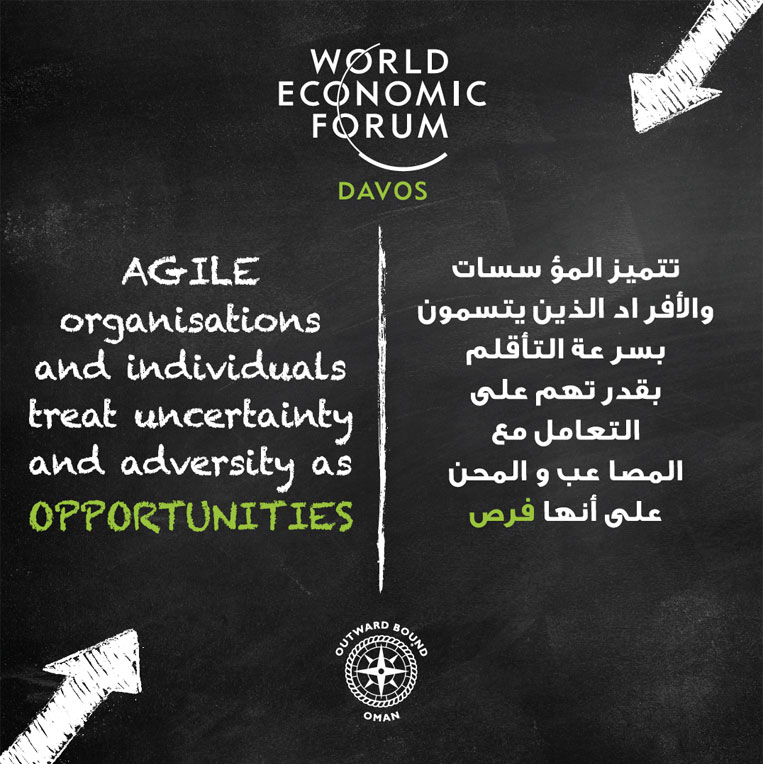 Courses for Corporate and Government Sectors
From PDO and Omantel, to Oman LNG and Majid Al Futtaim, we work with and design courses for many of the leading companies and government organisations in Oman to deliver a range of outcomes suited to employees at all stages of their careers. From courses that work with new employees that have a focus on work ethics and behaviour, to developing the capacity of emerging talent, to providing unique time away from mobile phones and distractions for leadership teams that need an unbroken, focused opportunity for clear, strategic thinking. Our courses continually receive great feedback, and for participants make a refreshing change to normal, hotel or head office based training courses. See the Corporate and Government section of this website for more information.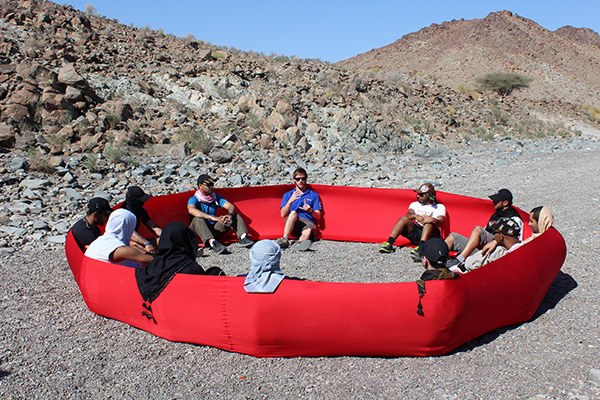 For schools doing the International Award
From St Christopher's in Bahrain, to Sherborne School in Qatar, to the British School in Riyadh and Brighton College in Abu Dhabi, many of the leading schools in Oman, and throughout the GCC send their students to us to deliver the expedition element of the award, at bronze, silver and gold level.
Many of our instructors have attended supervisor and assessor training courses delivered by The Duke of Edinburgh's International Award Foundation in Dubai, and Muscat.
Excellent course, good planning, timing and provisioning. Different activities kept students occupied. Staff very professional, enthusiastic and approachable. Worked together well and consulted with staff to ensure a well-targeted programme.
I have organised many trips in my time, and accompanied many more and I can honestly say that this was the best and most amazing trip I have ever done. The two instructors we had made the trip unforgettable for our students and I cannot fault them at all. They gave my students an adventure that they will never forget and one that they have most definitely learnt from.
Bespoke Courses-for Groups, Charities and Individuals
Whether you are a charity such as Walking with the Wounded planning an event in Oman, a private group or an individual with a dream, we have the resources and flexibility to work with you to design and deliver a course to suit your needs. We have designed courses to act as a catalyst and thinktank for groups of young entrepreneurs, for special needs schools who work with young people with specific behavioural needs and have hosted multi-day international conferences at our desert training centre for more than 100 people.
We have the resources and the flexibility to design and deliver a whole variety of courses, from special needs schools in the UK, to young Omani entrepreneurs, to people undergoing drug rehabilitation, to courses recognised in the international arena by UNESCO that focus on intercultural understanding and dialogue.
Get in touch, and let us know what you would like to do.
Give us a call on +968 24539788, or email

enquiry@outwardboundoman.com


telling us what you're thinking, and we'll work with you to make something happen.