Welcome to our Desert Learning Centre!
Located in the beautiful Sharqiya Sands, some 2 hours drive from the new Muscat International Airport, our centre was formally opened in March 2018.
In addition to acting as a base to start and end our Outward Bound and International Award courses, the centre provides a perfect residential environment for all sorts of academic study and research. From Universities to Primary School, from Geography to Art, and Biology to Environmental Systems, the scope for a powerful educational experience in an inspiring, unique environment is considerable.
We hope the information on this page gives you a good idea of what the centre is like, and what the possibilities are. There are even on-line lesson plans produced by The Royal Geographical Society for you to use in class before you visit.
The Outward-Bound Oman Desert Centre provides an exciting learning environment with fabulous facilities and inspirational atmosphere, all wrapped up in a wild desert location. Warm and friendly staff seals the deal. We will be back!
'After venturing into the dunes on fieldwork forays, it was wonderful to return to the Desert Centre with its creative Omani design features and inspiring teaching and learning spaces. Our students loved the accommodation, including the option to sleep on roof platforms under the stars. The well-equipped kitchen has been built for self-catering –something the group looked forward to each day. Lecture theatre with projector, lab equipment, fire pit for evening reflections, wonderful staff and stunning desert – perfect!'
The Power of Learning Outdoors – Roy Blatchford CBE
Roy Blatchford has worked in nearly every sector of education from the classroom to Whitehall. During the past forty years he has been a teacher, headteacher, school governor, government adviser, director of various educational charities, Ofsted inspector, national trainer and keynote speaker. Roy was Her Majesty's Inspector of Schools in England, with lead responsibility for school improvement and for the national inspection of good and outstanding schools. More recently, he has helped establish inspection and school review systems in New York, Dubai and Mumbai. He was appointed CBE for services to education in the 2016 New Year Honours.
Roy is the author/editor of over 150 books including the best-selling 'The Restless School'; his latest book is 'Success is a Journey', and in chapter 20, inspired by a visit to our desert centre, he reflects on the importance of learning outside of the classroom. Click on the image to access the article.
This is a book of exceptional depth, breadth and clarity. Rooted in an authentic knowledge of leadership and pedagogy in the UK and overseas, it contains insights that sometimes provoke and sometimes reassure us. Roy Blatchford's observations, nudges and challenges are always rooted in an optimistic faith in teachers and leaders to enrich the lives of children and young people. In 'Success is a Journey' – packed with inspiring examples – he explains how. This is a book to read and re-read.
Royal Geographical Society Wahiba Sands Project : 1984-87
Combining hi-tech satellite imagery with the intimate knowledge of the local Bedouin people, in the 1980s the Royal Geographical Society carried out a complex interdisciplinary study of the sands where our study centre is located, which were then known as the Wahiba Sands. The aim of the project was to study the early development of the desert, its ecosystem and the impact of recent change.
The sands, which have an area of 15,000 square km, were found to contain a rich variety of landforms, flora, fauna and human activity. 16,000 species of invertebrates were noted, as well as 200 species of other wildlife. Also documented were 150 species of native flora. A key factor behind the richness is the proximity of the sands to the Indian Ocean, something that results in a heavy fog and dew at certain times of the year, that provides moisture to many forms of life well adapted to capturing it.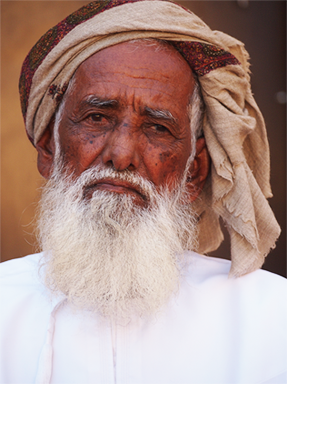 A key member of the Royal Geographical Society team, was Sayyid Jabber Bin Hilays; Sayyid Jabber was selected as the best guide in the desert at the time, and was asked to work with the scientists to ensure they came to no harm. He is still alive today, and a regular visitor to our centre when he comes to check on his camels.
©Royal Geographical Society