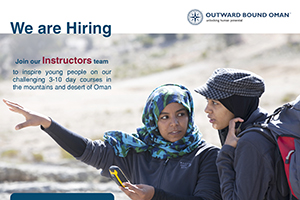 Are you looking for a rewarding job that makes a real difference to young people's lives?
Established by Ministerial Decision, Outward Bound is an international, educational foundation that uses the outdoors as a classroom to develop individuals and create effective teams. Outward Bound is the global leader in outdoor-learning, and operates in six continents. Outward Bound Oman has been set up to inspire, challenge and develop young people in Oman. As part of our expansion, we are looking to appoint the following staff to join our team:
Trainee Instructors-Male and Female
You will lead, inspire and work with teams of young people to develop their personal and interpersonal skills. Our challenging and adventurous courses, which are between 3-10 days in length, are based entirely out of doors, in the desert and mountains of Oman. If you enjoy the outdoor environment, and have a genuine interest in working with young people, this could be the job for you. Please note that the ability to speak fluent Arabic is essential for this job.
Find more information Here