One thing that sets Outward Bound apart from other outdoor providers is the focus on long term impact and outcomes, not short term experiences.
We use the outdoors as a vehicle for meaningful learning that makes a real difference to people's lives, and do our best to measure and communicate that in a variety of ways:
Measuring the immediate impact
End of Course Reviews.
At the end of each course we deliver, participants undertake a solo where they can reflect on their experience, and carefully complete an end of course review form and action plan. The results of these forms are collated and shared with course sponsors and other key stakeholders, and collectively summarised each year in our Annual Report.
Recent end of course feedback from our Next Generation courses;
DEVELOPING WORK ETHICS AND PERSONAL
TOOLKITS FOR SUCCESS IN OMAN YOUTH
Sample taken from Omani young people aged 17-25 attending Outward Bound Oman Next Generation courses 2017
% of young Omani participants who strongly agree/agree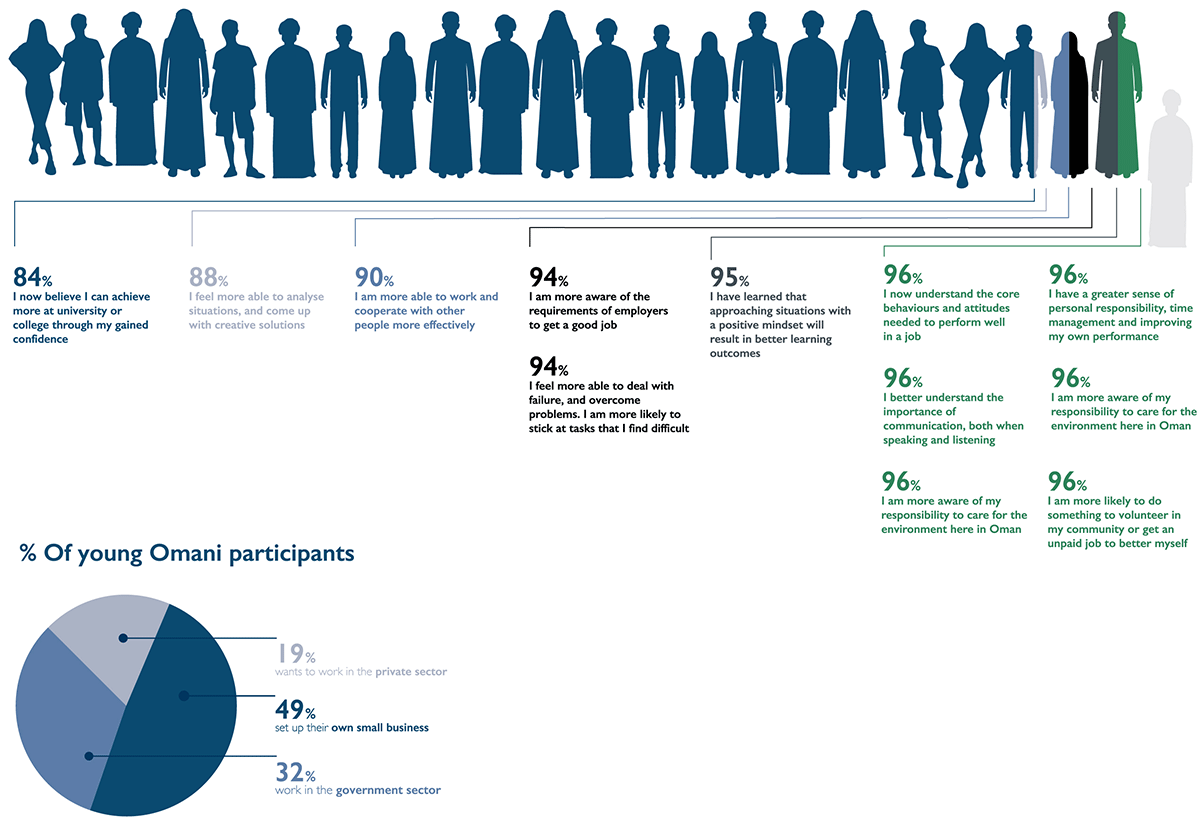 Measuring the longer-term impact
My Outward Bound story; feedback from our alumni
Our team in Muscat is in the process of communicating with a sample of Outward Bound Alumni, going back some nine years. We are talking to them about the impact that Outward Bound had in shaping their lives, and their attitudes and aspirations over the medium to long term. The results of these conversations will be published here as a series of PDFs as they become available. In the meantime, we particularly enjoyed receiving this feedback recently from a young Omani girl who had just reached home after a four-day Next Generation course on Jebel Akdhar;
A recent survey of more than 1,000 participants revealed the following;